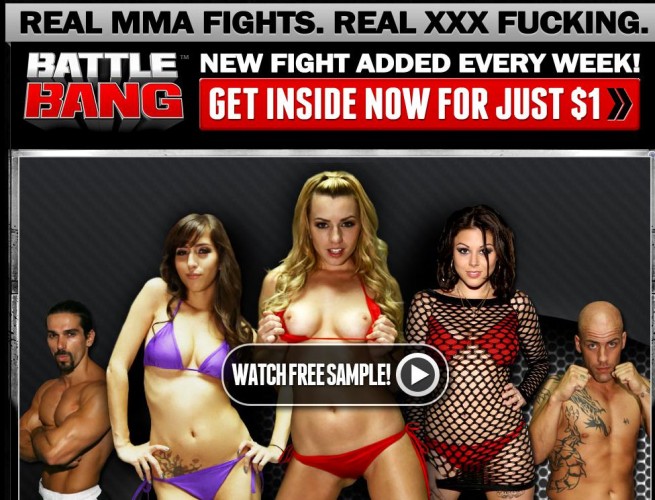 Preview
MMA is the fastest growing sport in the world with fighters now becoming household names and taking home six figure contracts from the larger organizations. So, how could anyone hope to motivate the fighters even more and get even better performances out of them? Battle Bang is the answer. The fight winner gets to fuck his favorite pornstar and the loser gets punished by a fat skank!


Review
The fights are real and while you may not know the names of these up and coming MMA fighters, they have real credentials and are capable of scoring a knockout or winning by submission every time they step into the octagon. They show up in shape, they make weight, and they demonstrate the same level of aggression you'll see at any of the more mainstream fight shows.

The big difference between Battle Bang and the other fighting organizations is the hardcore fucking! When the fight ends there is always a winner and a loser, but only on Battle Bang does the difference between winning and losing become so evident so quickly.

Winning fighters get to fuck porn superstars like Lexi Belle, Sophie Dee and Mulani Riveraas a reward before they even leave the cage, while the losers are saddled by fat skanks like 44GG-34-38 Tiffany Blake and taught the agony of defeat from the nastiest bitches Battle Bang could find! The Battle Bang site is relatively new and while the archive is growing thanks to weekly updates, the drawback of the site is that it currently has only 7 fights available for viewing. Over time that number will rise, but until then it's a unique concept with a small main content area that relies heavily on the network access you also get included.
Network
Your full access pass for Battle Bang also includes thousands of bonus hardcore videos in HD quality that are perfect for supplementing your fixation on hardcore MMA sex combat.
Summary
We really hope Battle Bang gets the chance to become all that it can be. Right now it's an excellent, unique and very entertaining site that has a surprisingly small collection of fight videos on it. Hopefully with the weekly updates and some additional supplements the collection will grow rapidly and become the premier place to find real MMA fighters fucking hardcore pornstars after defeating their opponent in hand to hand sexual combat!