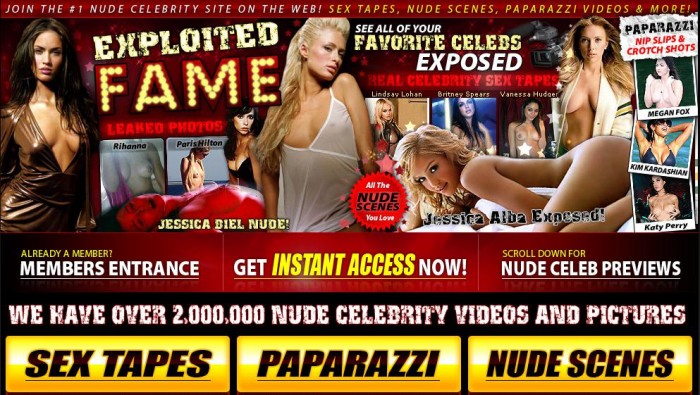 Preview
Exploited Fame is one of the largest collections of celebrity nudes, Hollywood nipple slips and paparazzi pics online. The site includes thousands of real nudes and plenty of fakes that let you go beyond reality to the true fantasy heart of celeb xxx vids and pics. It's all downloadable and nearly every famous female is already included in their collection!
Review
There are a growing number of celebrity skin sites online these days and each has its own strengths and weaknesses. Exploited Fame is one of the best of the bunch because it includes such a large collection of famous females and upcoming celebrity sluts. Unlike a lot of other sites, Exploited Fame is also willing to bend the rules and publish sneak peaks that many other sites turn away in an attempt to stay more politically correct. If you want the hot shots and don't care about anyone else's right to privacy, this is the site for you!

With more than 2 million images and over 100 thousand videos, it would take you forever to watch all of the celeb stuff in the members area. The interface is simple to use, but perhaps a little too simple, so when you first start browsing around it may take you a short time to find your way to the kind of content you are looking to find. Having access to thousands of actresses, singers and famous models is fantastic but a collection this large takes some time to sift through for the pics and vids that you want most.

Because the content is taken from television, magazines, movies and paparazzi private collections the quality varies tremendously from one set to the next. Some images are damn near high-definition, others may be blurry up-skirt shots or distorted video screen caps but that's understandable considering the sources of the materials you are seeing. These aren't all posed studio shots, many are once in a lifetime candid clips, so it comes with the territory.

One of the more interesting parts of Exploited Fame is the fakes section. The experts carefully sort the real images from fake ones that get circulated on the internet. That way you always know if what you are watching is real or fake. Still, even if you know they are fake, some of the fictional images are even hotter than the real ones. It's a lot of fun when you find 100 pics of your favorite celeb with her tits showing and then switch over to the fakes and find 100 more with her being fucked and facialed in raw photographic detail!
Network
Exploited Fame does not include access to any network sites but with a collection as large as this one, there really wouldn't be much point to adding one for celeb content. Though the addition of some hardcore DVDs or exclusive pornstar site access might be a welcome bonus for some fans.
Summary
This is a huge site for fans of Hollywood celebrities, lingerie models and world class sex symbols. Pretty much every famous woman you have ever wanted to see naked is already included and many more are added every day. The site updates every time new celeb porn can be found, so some times it may be many new pics and vids in a single day!