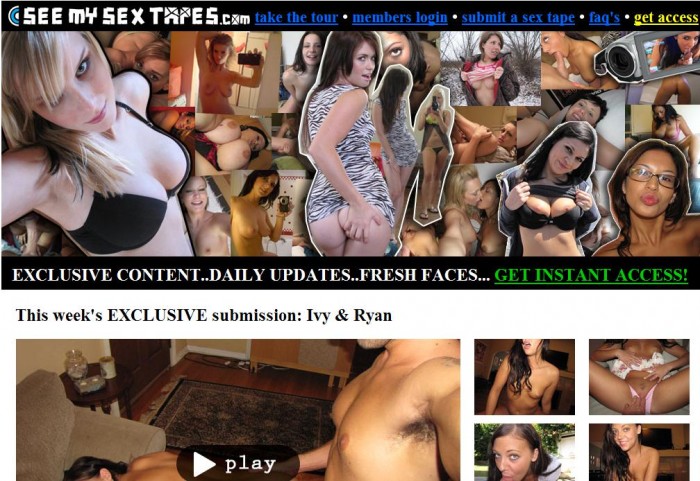 Preview
Even with the prettiest pornstars, eventually fans get tired of seeing the same handful of whores getting fucked on film no matter which sites they join. That's why real amateur sex tapes have become such a hot item lately and the See My Sex Tapes site is gaining popularity with the real expert porn fans who want to see fresh faces and hot teen amateurs getting banged for the first time on film… every time they add a new update!


Review
Whether you are watching Ashli & Danny, Ivy & Ryan, Victoria & Joey or any of the other real homemade sex tapes available at See My Sex Tapes, you can be sure the next slut you see is one you are watching for the first time and the differences in style from one couple to the next are always exciting. Because pornstars all fuck the same guys over and over their sexual acts can become stale and cliche, but when real couples fuck on film… anything can happen!

One downside to the site is that the production values vary because these videos are filmed in dorm rooms and apartments all over the world. These aren't the HD studio shoots with thousands of dollars in lighting equipment and pro camera man capturing every second of sex.

However the huge bonus is that the orgasms are real because unlike pornstars, these girls have no reason to fake anything. They are home fucking and aren't making the decision to send it in until after the action is over. That adds a layer of intensity beyond what you might be used to seeing on your favorite xxx sites.


Network
Even better than a standard network, See My Sex Tapes lets you try to become a part of the action with as much as a $2,500 cash reward for horny women who are willing to send in their own hardcore fuck films if they are used on the site. If you know a special someone willing to work with you submitting a tape, you might be able to earn a hell of a lot more than this real amateur sex site ever costs…. and you can become famous for fucking all at the same time!


Summary
See My Sex Tapes has enough quality content to keep you busy for a while, but with 26 updates and a varied update schedule you never quite know when more pussy is on the way. It makes sense because they have no way to know when another hot submission will be sent to their door, but as a fan it also means never knowing if today is the day you get to watch a new sweetheart play or if it's back to the existing archives all over again.